Expats meet-ups
Do you know the feeling of being new to a city and being eager to know what the city has to offer? An expat may seek to meet people from the same country of origin or maybe get to know some other people. Are you a tourist searching what this region of Poland has to offer? Everyone is welcome during the expats meet-ups. Each event has interesting presentations and workshops to offer. Traveltricity had the opportunity to talk to the person behind this cool initiative and wants to thank Izabela Disterheft for sharing her expats networking events initiative.
Experience and background
Izabela is passionate about digital healthcare solutions. She has been working with both – Polish and European – teams solving healthcare challenges for the last few years. According to her this area of economy has a great meaning.
There are solutions that can save our lives, make the healing easier and faster, prolong our survival or improve our quality of life. And all that matters.

By Izabela Disterheft
Previously, she was supporting medTech companies in their development: linking these companies with the proper partners, training on pitching in order to make it easier for them to acquire investors and giving them exposure during relevant events. She even authored and co-authored events focused on digital healthcare. Recently, she joined a company that has been working with the insurance sector for more than 10 years. There she is responsible for developing the digital healthcare activities. Her duties include scouting for teams or companies and checking if there is alignment with their approach and capabilities.
Bringing expats together
Once upon a time, she was a "foreigner in a city" herself. The last year of her graduate studies from the Economics Department of the University of Gdansk, she spent in Athens where she was studying Business Administration at the University of Pireaus. She left behind her comfortable and well known environment and left to the city that she did not know at all. As result, she knows how it feels when you land in a place were you don't know anyone and where all places are new.
In 2016 she joined the ICT cluster that had its office in the Olivia Business Center being surrounded by lots of nationalities. She realized that there are so many foreigners working in IT, BPO/SSC-companies and also in its surroundings like in the Alchemia business park. Thinking about how she felt, she came up with an idea of organizing meetups for all those people coming from different countries.
Basing on her own experience she knew exactly what she wanted to achieve…
I just did it with an empathy. I was thinking from the heart.

By Izabela Disterheft
Organizing Meet-up Networking Events
To organize meet-up network events properly Izabela needed budget and partners.
Finding partners to organize those events was not hard at all for her as she has been active in the startup/tech community for almost 10 last years.
Persuading and engaging the sponsors – that was a bigger challenge. Since she had a good plan and talked convincingly, she found for the first meet-up, the support of companies like: Jeppesen, Kainos, AirHelp, Powel and Olivia Business Partners.  The following organizations backed-up the meetings so far:
InvestGDA (Invest in Gdansk)
Invest in Pomerania: supported 4 editions in 2018 which were organized under its brand: Live more. Pomerania.
The Pomeranian Science & Technology Park hosted the networking event recently.
Meetup #12 will be supported by Alchemia Business Park.
She is happy that the local businesses and administrations understand the importance of such meet-ups and keep supporting these meet-ups.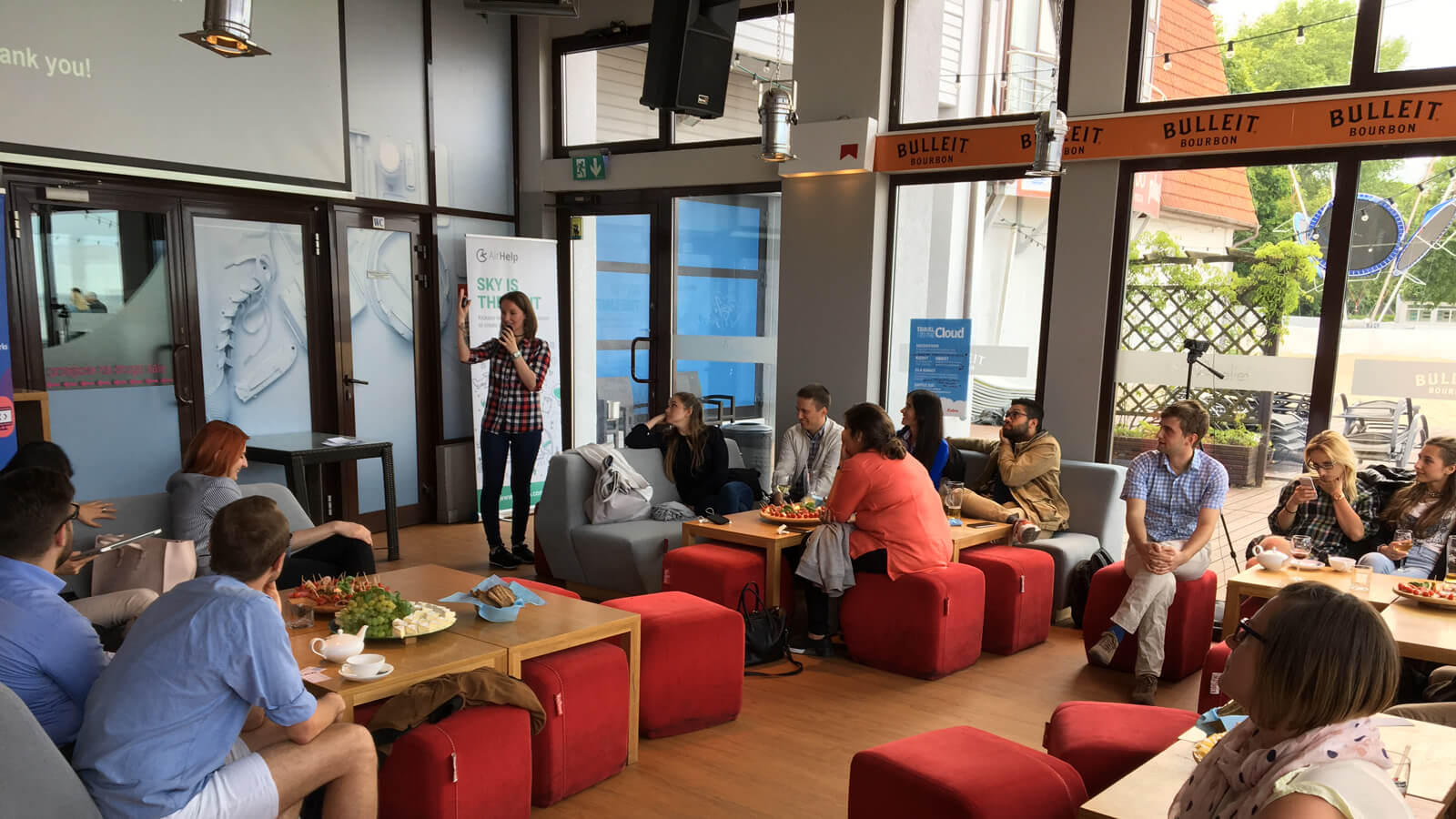 What this region of Poland has to offer
She truly believes that there are lots of factors that makes us happy. Only few of them are external. There is a duality in happiness that is defined by various factors: on the one hand, you may live in paradise and still feel unhappy; on the other hand, you may live in a country or a city that is less developed than Gdansk and still be the happiest person in the world. Happiness is relative but in a certain point of view it is defined by its surroundings. Gdansk – with its nature, culture, entertainment offer and entrepreneurship environment – makes your life really easier. The city has lots of forests, there's a nice public transport, there's a rich history of the city to be shared, and the sea…
It's easy to organize your free time in Gdansk and Tricity, it's easy to relax. A short walk at the seaside can simply make your day!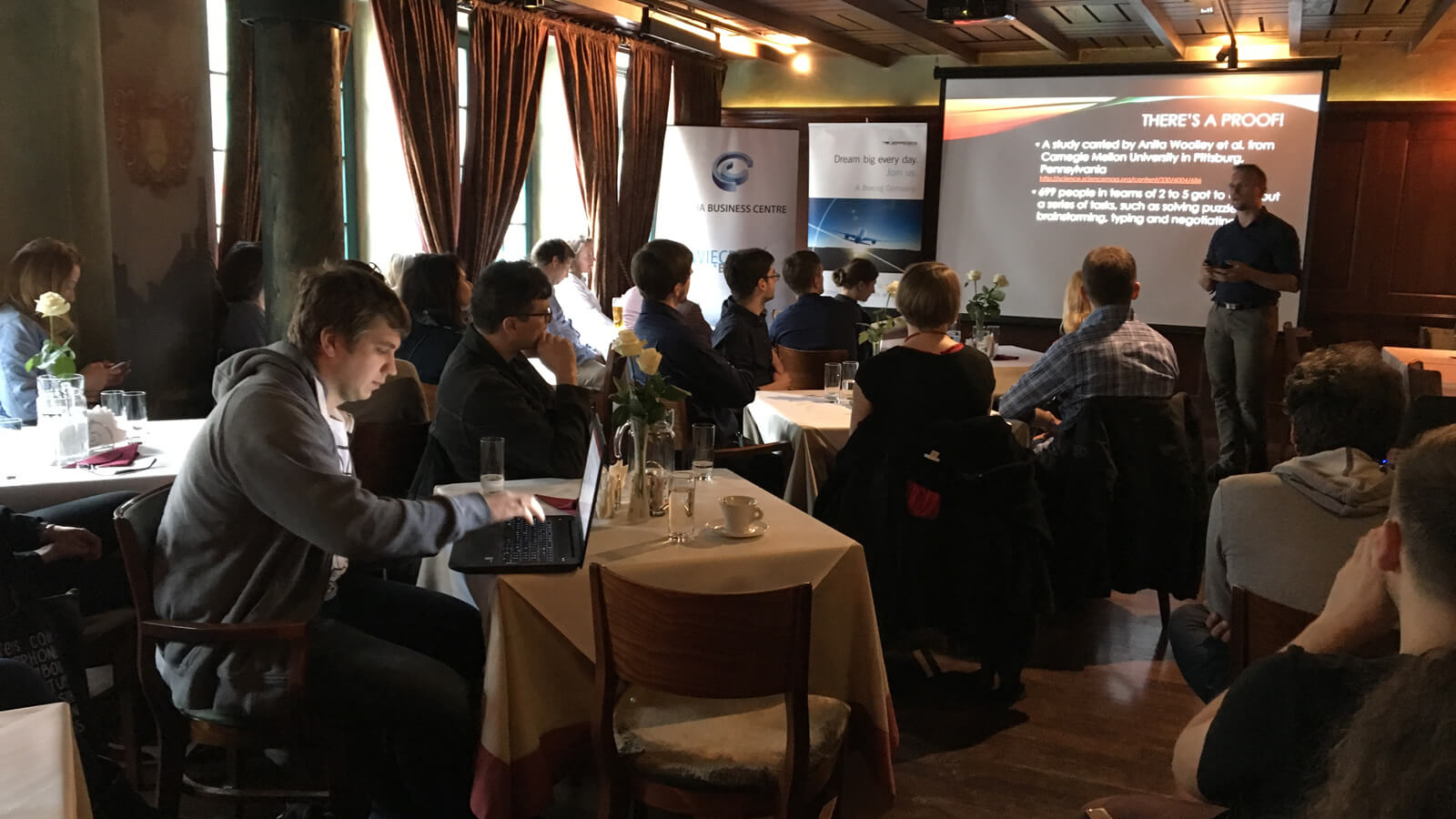 Connecting people
Expats meet-ups connect people. Once the same people keep coming during these events, something positive can be created and a real social network can be forged: people meet, learn, link, build relationships and friendships. She personally met lots of people that keep inspiring her and as she states:
I really enjoy getting familiar with their cultures, opinions, perspectives, believes.

By Izabela Disterheft
It feels absolutely great to see how the group is growing and how people interact during such events. Friendships are created and this makes it worthwhile to organize such events and certainly to attend. Such meet-ups are organized about every one month and a half.
Vision
She is determined to continue expats meet-ups: she wants this group to grow up to 1000 members by 2019 and be able to build a solid platform for foreigners to make them feel well informed, imparted and inspired.
The key is to listen to the attendees and to shape the project the way they expect and incorporate the improvements they are asking. So, it's difficult to predict what will happen. Everything is based on feedback that allows a continuous chain of improvements to increase the quality of the meet-ups. Nothing is fixed!
Last thought… Whether she wishes to turn this social project into a business oriented one… The entire purpose is to make people feel at home in a city/region that is new to them. What will be, will be, but let's not forget the purpose…
Invitation
Feel invited for the meet-up edition #12 supported by Alchemia Business Park on October 17, 2018 at 17:45 to 22:00. The last one of the year will be held at the end of November. It will be the X-mas edition: exact date and place will be communicated later.
If you want to be part of something great, please click the link below and register your attendance. It's for free.
Program
With various networking occasions in between the workshops, these are the workshops for:
Edition #12
"Expand your business with network and mingling" – Christian Collier-Lia
"USA vs Poland + communication practices & expectations across language barriers / cultures" — Mike Mahoney
"TravelTricityPoland.com – developing the blog by a foreigner: challenges vs advantages" – Dan Micu
"Where to go, what to eat" – Streetwise, Nazeen Koonda – Masood
Edition #13
On 28th November at 5:45 PM, along with AirHelp, you're invited to meet up at the Olivia Business Centre (STAR building, 25th floor).
"My first weeks in Tricity – Canarian perspective" – Josue Cazorla Quevedo
"Curiosities about living in Poland from an Englishman's perspective" – Mark Cameron
"Life in Tricity and Poland from a gay person's point of view" – Leena Ahlstedt
"Action Learning – Intro to the powerful group learning tool" – Renata Czajkowska
"LANGUAGE POOL – as a language hub bringing together the local communities of expats, employees, students, and locals" –  Michał Daszkiewicz & Robert Grisdale
"Where to buy and eat the best Italian food in Tricity" – Marco Brunetti
"Two years of Expats in Tricity meetups" – Introspection